Hugs Milestone Anniversary: Celebrating 25 years of helping hospitals protect their tiniest patients
We have a lot to celebrate! We are excited to announce our transition to Securitas Healthcare and honored to celebrate Hugs 25th Anniversary. Hugs has kept infants safe in hospitals since 1998. After 25 years, our commitment to helping hospitals protect their tiniest patients has never been stronger. Thanks to our loyal clients and partners, we are proud our Hugs Infant Protection solution remains #1 in the market because of that commitment—and because our solution delivers a better experience.
For 25 years, we've created safe and secure healing environments for infants, children, and mothers. Thank you, Hugs Community!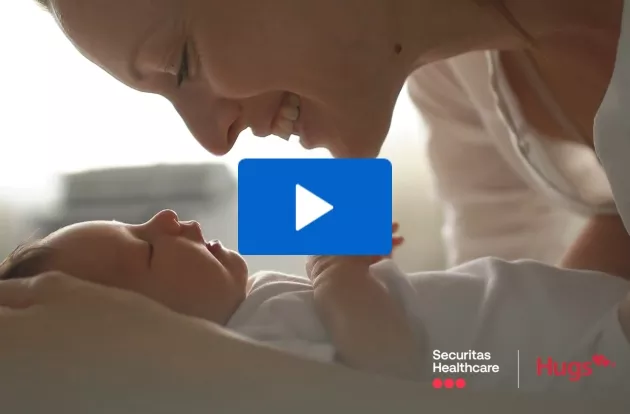 As the industry leader, we never stop studying the market, and we are constantly innovating to ensure we stay ahead of emerging security threats and evolving standards of care. Through our own experience, voice-of-customer research and industry associations, we know that infant abduction risks are increasing, and security challenges are evolving.
Family abduction is on the rise, and the threat of infant abductions is hospital wide. In fact, industry statistics show that 1 in 4 infant abduction attempts occur outside the Maternity unit.  Consequently, the National Center for Missing and Exploited Children have expanded their recommendations to include NICU and Pediatrics.
Today, hospitals are adopting a single standard of care to protect all infants around the clock and no matter where they are in the hospital. And yet, traditional infant protection solutions do not provide coverage outside the Maternity unit; in other words, many haven't advanced their technology to match the market needs. Relying on outdated technology is risky, and an infant security system isn't something a hospital should compromise on.
Everyone agrees: One baby is too much.
Because we care about infant safety, we've focused our investments in research and development to reflect the rising standard of care. In 2013, we released our next generation of the Hugs solution, which hundreds of hospitals already trust today. Our goal was and still is to empower today's caregivers with advanced, yet simple, technology that supports a safe and secure healing environment for infants, children and mothers.
Our solution runs on a hospital's Wi-Fi network—the same reliable enterprise resource that powers the electronic medical record (EMR) system—and can therefore provide visibility and protection across the campus. For failsafe security, Hugs is designed with a robust off-line mode that retains critical security functionality to keep infants safe in the very rare event of Wi-Fi network failure (IT would be on it immediately!) Because it's maintained by the IT department, it can be integrated into a hospital's single sign-on capability, benefits from enhanced cyber-security protections, and expanded to access additional RTLS applications.
We also know that leveraging the existing Wi-Fi infrastructure is not the right fit for every facility, so our departmental-only coverage might be the right option for some hospitals.  Either way, Hugs remains the most advanced solution out there, and it's also remarkably simple for caregivers to use. KLAS recently released their First Look Industry Report, Enhancing Infant Security and Reducing Risk through Automated RTLS, which examines customer experiences with our Hugs Infant Protection solution.
In short, Hugs is the most comprehensive infant security system—providing trusted, scalable protection for small and large birthing hospitals, including IDNs. It offers more security, it works and it delivers a better experience to patients, their families, nurses and other caregivers.
Securitas Healthcare is here to support our current customers and welcome new ones that decide to come on the journey with us.  We will keep striving to do what's right for hospitals as they face ever-changing challenges and opportunities. As my colleague, Kelly Smith, Registered Nurse, Director of Clinical Services at Securitas Healthcare, has said, "We are right on target with what we provide to our customers. You know, we are providing a security that is relevant and needed in the clinical workspace. It makes me proud every day."
I couldn't agree more.